The Speculators Gambit: Optionality For The Fed's Coming Reversal
The Fed has been tightening aggressively since late 2016. After Trump won the Presidency, the market priced in his ambitious tax cuts, de-regulations, and trillion dollar stimulus projects. I believe the Fed had also priced in these fiscal expansionary policies. Therefore, they thought they could tighten faster to prevent the economy from 'overheating'.
But Trump's policies have been a no-go…
And the Fed's aggressively tightening monetary policy when there has been no fiscal expansion to counter it.
Could they tighten more? Yes. In fact, I have detailed that I forecast the sole reason the Fed is hiking today is so that they will be able to cut once a recession starts. I have written that they will try and get rates to 3% so that they will have ammo in their arsenal once they need to fend off a recession.
If you have listened to the Fed, you would believe the economy is growing nicely, and as Yellen boldly stated, "I hope that it [another financial crisis] will not be in our lifetimes, and I don't believe it will be." Said otherwise, there is nothing to worry about. No wonder the VIX is at multi-decade lows.
But I don't buy it. Only a fool would…
Let's recap.
Last week the Q2 GDP numbers were posted. And they came in as "expected" at 2.6%.
But when was this "as expected" estimation made? If you look at the entire second quarter's timeline of what these "expectations" were, you can see a different picture.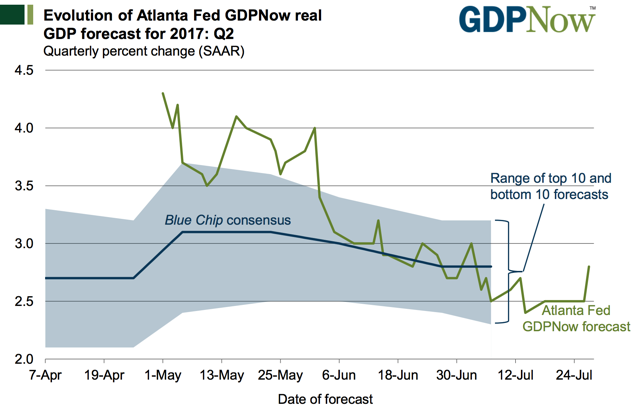 In early May, the Atlanta Fed was "expecting" almost 4.5% growth for Q2. And the Blue Chip consensus was slightly over 3%. If we were to judge the Atlanta Fed for their original "expectations", then recent GDP missed wildly – by 40%.
This shouldn't be a surprise. The Fed has an abysmal track record of forecasting things. There is a time lag for the Fed and their incoming data. They don't know if we're already in recession until it has already been in effect for months.
Otherwise said, they are usually looking into the past. . .
Read the rest here on my SeekingAlpha page.
Published On
Cynical Economic Banter - Harsh Skeptic - Speculator - Analyst
Join The Discussion
No Comments